UPDATED : This blog has been updated because there are so many more reasons to start hooping : 10 Reasons Why you Need to Start Hooping NOW
Hooping is growing in popularity around the world as a creative hobby, fun way to keep fit and for many a whole new lifestyle and career shift. Check out these powerful reasons why hula hooping is not just child's play but an incredible support for health, well being, creativity and connection.

Join the FREE 7 Day Waist Hooping Challenge : Daily Lessons : Connect with 1000s of hoopers
Scroll all the way to the bottom and get access to 100s of free hooping tutorials.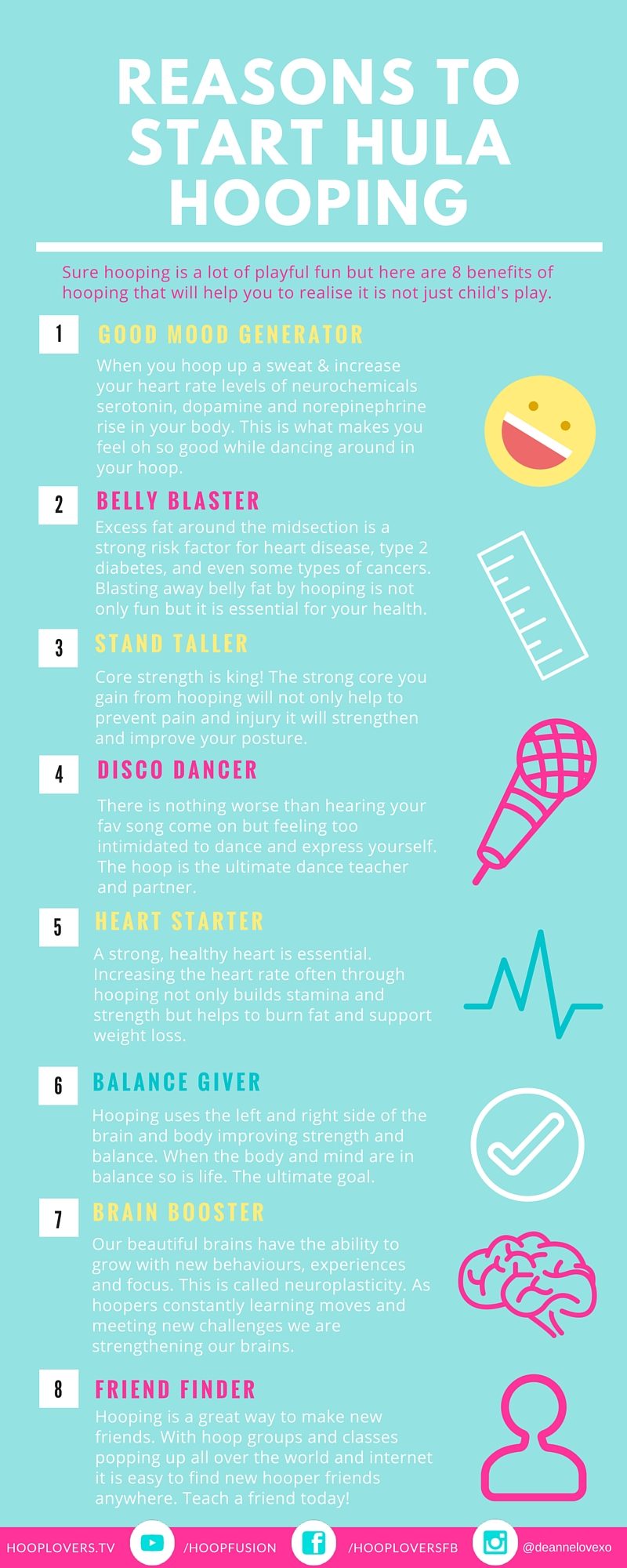 1. Good Mood Generator
When you hoop up a sweat & increase your heart rate levels of neurochemicals serotonin, dopamine and norepinephrine rise in your body. This is what makes you feel oh so good while dancing around in your hoop.
2. Belly Blaster
Excess fat around the midsection is a strong risk factor for heart disease, type 2 diabetes, and even some types of cancers. Blasting away belly fat by hooping is not only fun but it is essential for your health.
3. Stand Taller
Core strength is king! The strong core you gain from hooping will not only help to prevent pain and injury it will strengthen and improve your posture.
4. Disco Dancer
There is nothing worse than hearing your fav song come on but feeling too intimidated to dance and express yourself. The hoop is the ultimate dance teacher and partner.
5. Heart Starter
A strong, healthy heart is essential. Increasing the heart rate often through hooping not only builds stamina and strength but helps to burn fat and support weight loss.

6. Balance Giver
Hooping uses the left and right side of the brain and body improving strength and balance. When the body and mind are in balance so is life. The ultimate goal.
7. Brain Booster
Our beautiful brains have the ability to grow with new behaviours, experiences and focus. This is called neuroplasticity. As hoopers constantly learning moves and meeting new challenges we are strengthening our brains.
8. Friend Finder
Hooping is a great way to make new friends. With hoop groups and classes popping up all over the world and internet it is easy to find new hooper friends anywhere. Teach a friend today!

Subscribe to the Hooplovers YouTube channel for 100s of free tutorials