Every day hoopers are coming up with new and creative ways to use a hula hoop. Variations, modifications and styles. All of these moves come from a core group of foundation moves. While it is impossible to pinpoint the exact hoop tricks that all variations stem from this list of 100 Hoop Tricks is a great starting point.
The 100 Hoop Moves below are outlined in Module 2 of Hoop Love Coach Training. This list is the first 100 moves I teach to beginner and beyond students and it is also the first 100 moves we learn to teach in the online teacher training.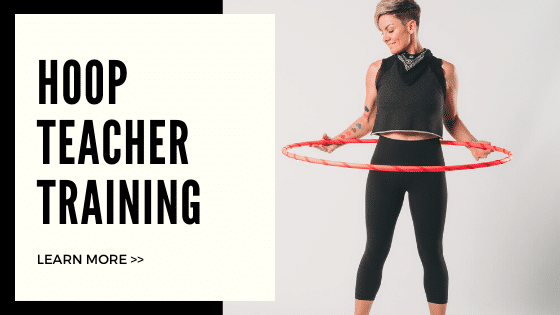 100 Hoop Moves
Part 1
1. Waist hooping
2. Saving
3. Pivot
4. Turning
5. Stepping
Each of these moves can be altered to suit your own style, mobility and emotions. Get creative. Get moving.
View this post on Instagram
Part 2
6. Arm flow – get creative, express yourself (recent YouTube tut- Ways to use your arms while hooping)
7. Dipping- a beautiful pathway to spatial awareness, coordination and timing
8. Waist breaks with 1 or 2 hands
9. Break & turn. Flow in both directions.
10. Ways to hips. Moving the hoop up and down your body for strength, connection & healing (yep, HEALING…hello pelvic rock)
Are you playing along? Yes!
View this post on Instagram
Part 3
11. Hips pelvic rock 12. Chest 13. Shoulders 14. Working up and down 15. Shimmy up
.
.
Reminder: your hooping journey is not a competition, there is no timeline attached to any of these moves. One move might take a lifetime, another merely a moment of embodiment. They are all divine ways to explore your creativity, they are all movement medicine. This is not a list to compare yourself to, it is simply a way to acknowledge your magic, celebrate your time in your hoop, in your body.
.
.
This is an invitation for you to witness your brilliance and playfulness, your challenge and breakthroughs, your frustrations and determination.
View this post on Instagram
Part 4
.
16. Neck with Alternative Arms: a gateway to gentle flow, timing, spatial awareness and the sickest party trick 🥳 17. Waist to Knees: finding connection and flow on all points of the body is a heavenly experience that takes time and understanding. 18. Knee hooping: go gently, don't look down, embody your priestess stance 19. Kick Ups: explore the many variations. 20. Knees to waist: hello pelvic floor powers 😝
Nb: hoop size will impact how much space you have to safely flow with these moves. On body hooping should never be forced with a small hoop. Build total body strength and awareness over time. If you choose to play with these moves 😘
View this post on Instagram
View this post on Instagram
Part 5
21. Shoulder Hooping Freestyle
22. Upper Body Breaks
23. Vertical Breaks
24. Barrel Rolls
25. Vertical Hooping
.
.
💚 = got it
💛 = working on it
❤️ = help!
.
.
Hooping is a powerful somatic release. There is no rush, no competition. Enjoy the flow.
View this post on Instagram
@deannelovexo100 Hoop Moves Pt5: 21. Shoulder freestyle 22. Upper body breaks 23. Vertical breaks 24. Barrel rolls 25. Vertical freestyle
More soon…